Bear Canyon Reservoir: A Hidden Gem in Mimbres, New Mexico
Posted by Kristen Morgan on Thursday, March 9, 2023 at 6:46 AM
By Kristen Morgan / March 9, 2023
Comment
Tucked away in the scenic Mimbres Valley of southwestern New Mexico, Bear Canyon Reservoir is a picturesque destination perfect for outdoor enthusiasts seeking a serene escape. Surrounded by rolling hills, lush vegetation, and an abundance of wildlife, this reservoir offers visitors a chance to immerse themselves in the natural beauty of the region. In this blog post, we'll explore the wonders of Bear Canyon Reservoir, including its history, recreational opportunities, and tips for planning your visit.
Constructed in the early 1960s by the New Mexico Department of Game and Fish, Bear Canyon Reservoir was initially established to provide fishing opportunities for locals and tourists alike. The reservoir, which spans approximately 25 acres, is fed by the pristine waters of Bear Creek and serves as a critical water source for the surrounding ecosystem. As a result, the area boasts a diverse array of flora and fauna, making it an ideal destination for nature lovers.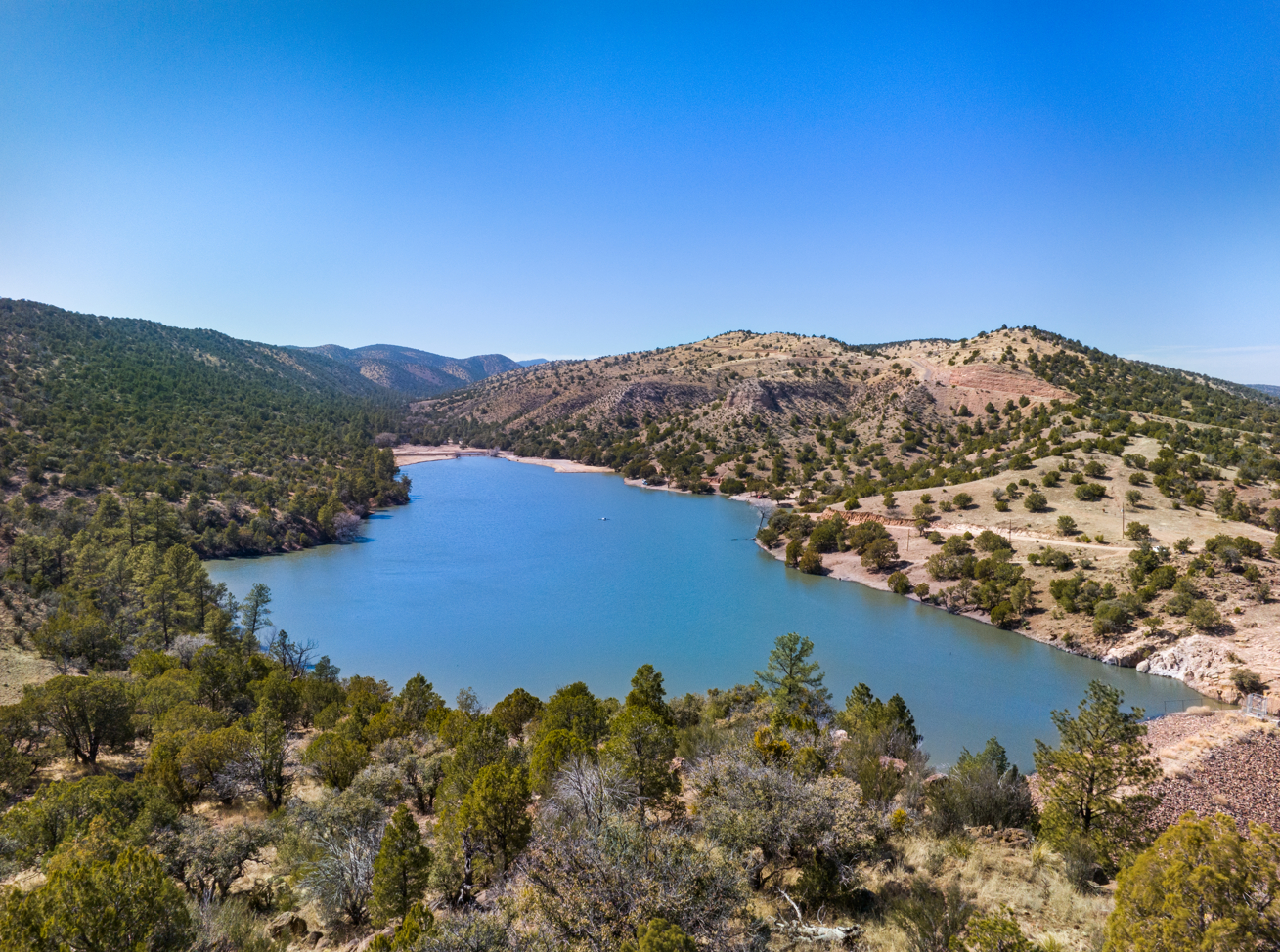 Bear Canyon Reservoir is well-known for its excellent fishing opportunities. Anglers can try their luck catching rainbow trout, catfish, and bass, among other species. The reservoir is regularly stocked by the New Mexico Department of Game and Fish to ensure a thriving fish population. Don't forget to acquire a valid New Mexico fishing license before casting your line!
The area surrounding Bear Canyon Reservoir features a variety of hiking trails suitable for all skill levels. Explore the reservoir's perimeter on a leisurely stroll, or venture into the nearby Gila National Forest for a more challenging hike amidst the breathtaking wilderness.
Birdwatching and Wildlife Viewing: The diverse ecosystem around Bear Canyon Reservoir makes it a haven for wildlife. Keep your eyes peeled for mule deer, elk, and even black bears as you explore the area. Additionally, the reservoir is a hotspot for birdwatching, with numerous species such as bald eagles, red-tailed hawks, and a variety of waterfowl calling the region home.
With several picnic areas and campgrounds available, Bear Canyon Reservoir is a fantastic spot for a family outing or a weekend getaway. Enjoy a relaxing picnic amidst the picturesque surroundings or pitch a tent for an unforgettable camping experience under the stars.
Before embarking on your adventure to Bear Canyon Reservoir, be sure to check the local weather forecast and road conditions. Access to the reservoir may be limited during periods of heavy rain or snow.
Bring plenty of water, sunscreen, and insect repellent to ensure a comfortable and safe visit. Don't forget your camera to capture the stunning scenery!
Help preserve the beauty of Bear Canyon Reservoir by following Leave No Trace principles. Dispose of waste properly, respect wildlife, and leave the area as you found it.
Be aware of your surroundings and take necessary precautions, especially when venturing off the beaten path. If you plan to hike or camp, let someone know your plans and estimated return time.
Bear Canyon Reservoir in Mimbres, New Mexico, offers a wealth of recreational opportunities amidst a serene and picturesque landscape. Whether you're an avid angler, a hiking enthusiast, or simply in search of a tranquil escape, this hidden gem is a must-visit destination. With its rich history and diverse ecosystem, Bear Canyon Reservoir is a testament to the natural beauty of southwestern New Mexico.
If you're considering making Mimbres or the surrounding area your home, REALPROS is here to help. We are dedicated to finding the perfect property to suit your needs and preferences. With our local expertise and commitment to exceptional service, we'll ensure your home-buying journey is a seamless and enjoyable experience. Contact REALPROS today, and let us help you find your dream home in this enchanting region. Discover the magic of Bear Canyon Reservoir and the unparalleled beauty of southwestern New Mexico for yourself.